Mexico's Natalia Lafourcade has an angelic voice that shouldn't belie her prowess and power as a singer-songwriter. Her soprano voice is a soothing lullaby, offering the comfort of a Disney princess and the warmth of a beachfront performer on the shores of her hometown, Veracuz (nowhere is this more apparent than on her choral "Mi Tierra Veracruzana").
Lafourcade's wide vocal range and dedication to the diverse sounds of Latin music were on full display at Terminal 5 on May 5. In a 2.5 hour performance alongside a cadre of uber-talented musicians under undulating, colorful lights, Lafourcade soared in front of a sold-out crowd.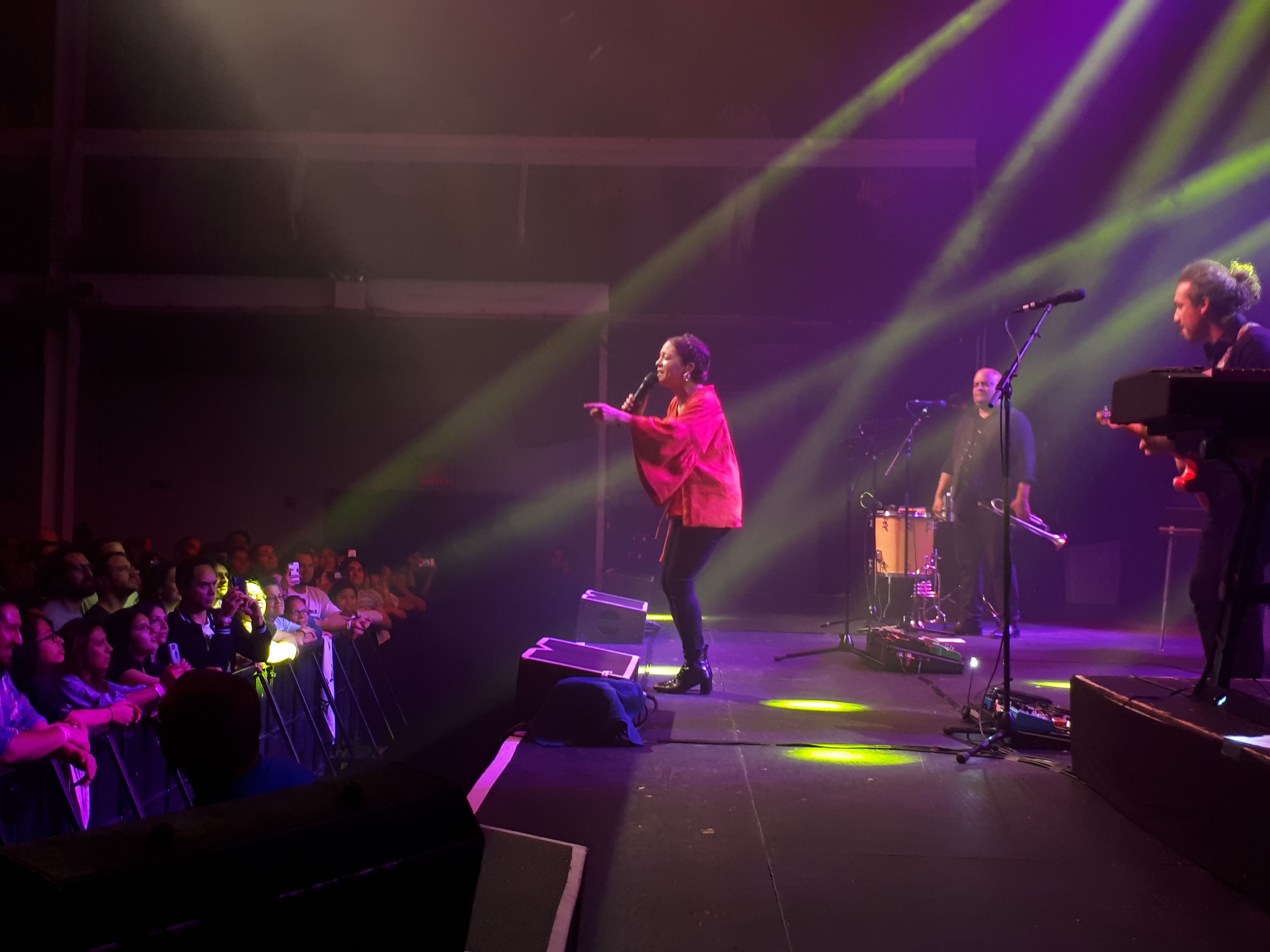 Although her music is rooted in Latin American sounds, Lafourcade incorporated rock, jazz, folk and bossa nova for a crossover sound that is still heavily steeped in tradition. With her group of six musicians, and occasionally a seventh master guitarist Jorge Glem, Lafourcade paid tribute to her extensive musical history (a whopping eight albums since 2003) and her folkloric roots.
The band brought a Phil Collins vibe to "Hasta la raíz," with Lafourcade holding her note for an incredible length under two spotlights. "Lo que construimos" came with a reggae vibe and a beautiful trumpet solo, which the band later kicked up in a Brasilian take on "Amarte duele." Effortlessly shifting between influences, tempos, originals and covers, it was difficult to discern where one song ended and the other began — Lafourcade's dedicated fans, however, absolutely knew and sang along with most every tune. At one point, all six musicians lay on their backs to finish a song.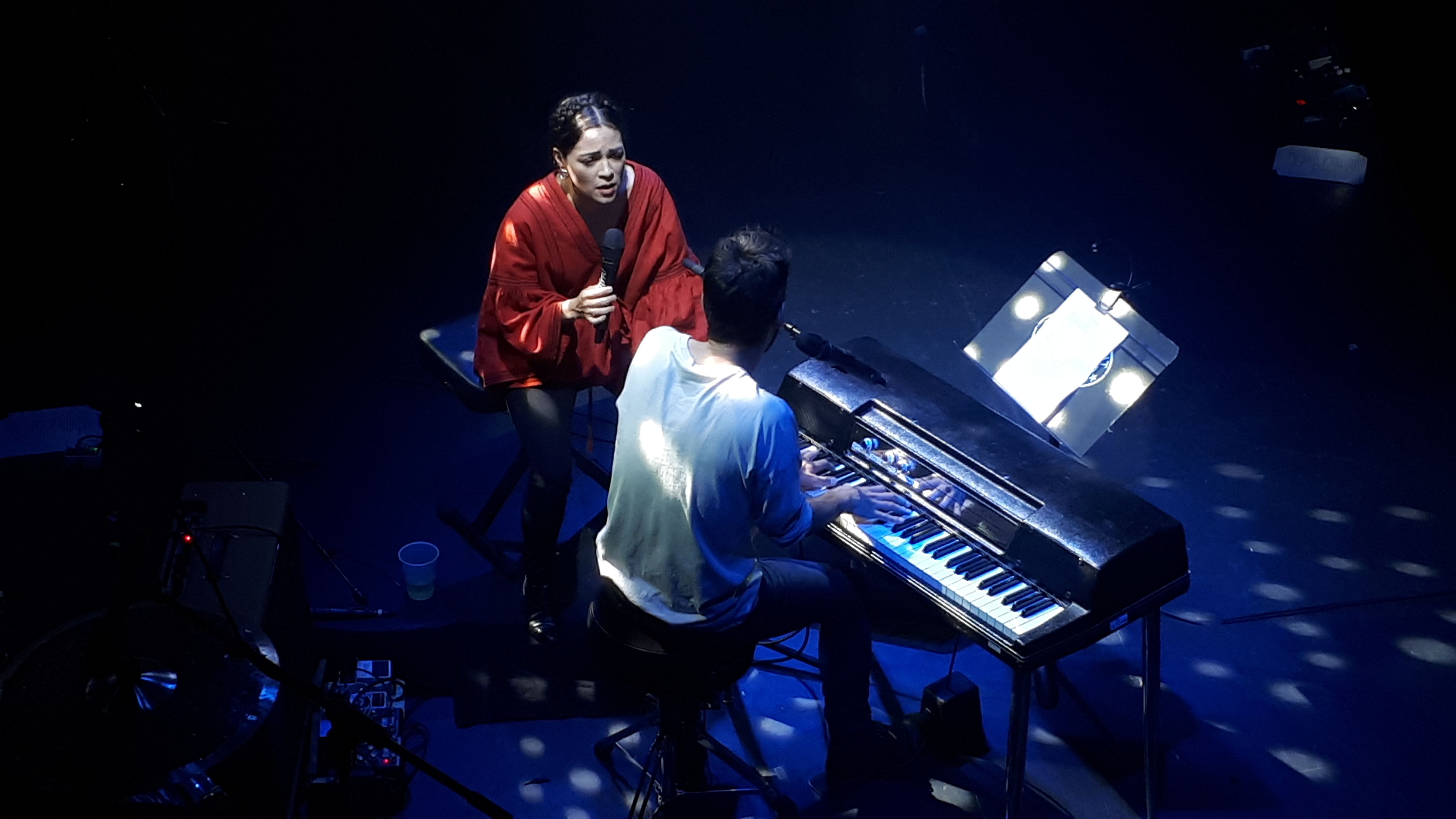 While most of the concert was sung and spoken in Spanish, the songstress took a break in English to welcome her non-Spanish speaking listeners. "The power of music is that it's the universal language that brings us together," she told the crowd.
Lafourcade then brought out a special guest, pianist Leif Vollebekk, whom she met in Canada while learning English. The two performed two impossibly intimate duets in a Nina Simone-style jazz while Lafourcade drank wine and Vollebekk sang like a less raspy Tom Waits. Each band member and friend was given an opportunity to shine, including Lafourcade herself on several searing solo numbers including "Partir de mí" for an encore.
La vocalista pequena con un voz fuerte obviously had a lot of fun on stage. For someone with such incredible popularity —she has been nominated for multiple Grammys and Latin Grammys (with 11 wins in all), and performed an Oscar-winning song at this year's Academy Awards — her performance came without an ounce of pretension and heaping amounts of sincerity.
Set List:
La Llorona (solo with trumpet)
Mexicana hermosa
Tú me acostumbraste (Frank Domínguez cover)
Soledad y el mar
Que he sacado con quererte (Violeta Parra cover)
Hasta la raíz (Jorge Glem on cuatro)
Lo que construimos
Ya no te puedo querer
Nunca es suficiente
Amor de mis amores (Agustín Lara cover)
Amarte duele
Casa
En el 2000
Mi lugar favorito
Recuérdame (Duet with Leif Vollebekk on keyboards))
Lilac Wine (Hope Foye cover) (Duet with Leif Vollebekk on keyboards)
Duerme negrito
Tus ojitos (Jorge Glem on cuatro)
Soy lo prohibido
Danza de gardenias (Jorge Glem on cuatro)
Mi tierra veracruzana (Jorge Glem on cuatro)
Te vi pasar
Tú sí sabes quererme (Jorge Glem on cuatro)
Ella es bonita
Encore:
Tonada de luna llena (Simón Díaz cover) (Jorge Glem on cuatro)
María bonita (Agustín Lara cover)
Partir de mí (solo)