Mambo has never been so punk rock. As one might expect, Daptone Records defied convention around the current Latin music crossover craze by promoting a band whose sound is straight from 1950s Cuba. Mambo big band Orquesta Akokán, whose self-titled debut received much praise, will perform two shows this week in the group's first U.S. shows.
"It's rootsy and an important part of the history of Cuban music," Daptone co-founder Neal Sugarman said at the time of Akokán's release. "I can listen to cumbia and reggaeton, and also appreciate this because this is where that all came from."
During its small window of immense popularity, mambo tapped into Cuba's musical DNA and laid the foundation that would eventually influence salsa. The sound also crossed over to American audiences, jumpstarting a national fascination with Cuba, but was lost to changing political times and tastes.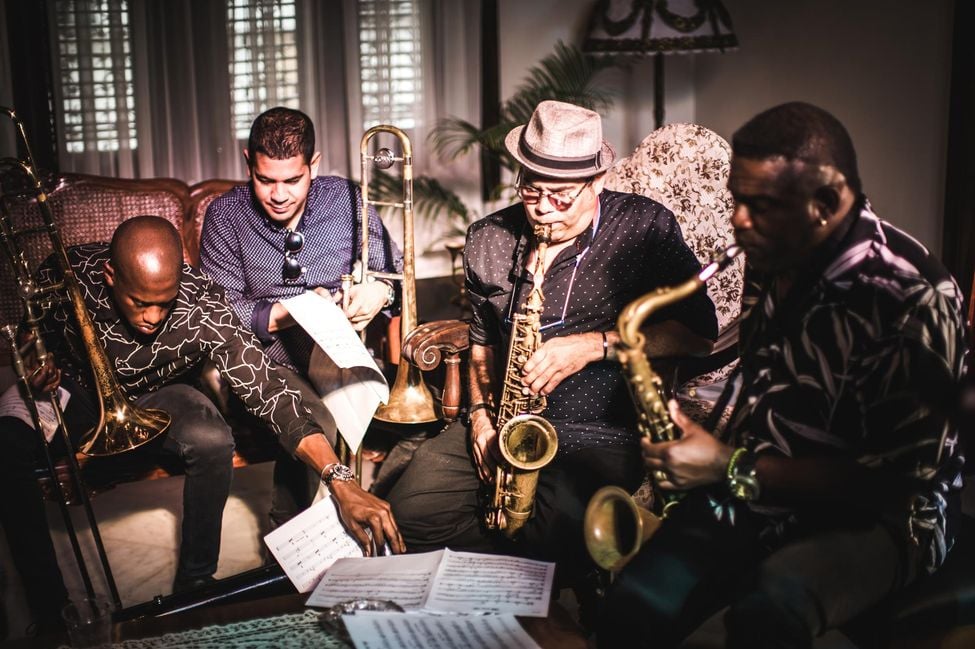 To record Orquesta Akokán, local guitarist and producer Jacob Plasse traveled with New Jersey-based vocalist José "Pepito" Gómez to Havana's storied Estudios Areito. In November 2016, musicians from modern Cuban groups including Los Van Van and Irakere laid down tracks in the room that once recorded legends such as Celia Cruz and Benny Moré,
The debut record is notable for its horn and rhythm sections, which force listeners to their feet on "Mambo Rapidito," then lulls them into a soft sway with "Un Tabaco para Elegua." Cut live to tape, the record succeeds in paying homage to mambo legends such as Moré, Israel "Cachao" Lopez and Perez Prado.
Orquesta Akokán will perform two shows this week: one at National Sawdust in Brooklyn on July 10 and on July 12 at Lincoln Center's Midsummer Night's Swing. Purchase tickets below.
This performance coincides with the Latin Alternative Music Conference. Some LAMC shows of note are:
July 10: Orquesta El Macabeo at Lincoln Center Midsummer Night Swing
July 11: Gabriel Garzón-Montano, Tomasa del Real, Nicola Cruz, and Latin Bitman at Central Park SummerStage/Rumsey Playfield
July 11: Delaporte, Vega, Fyahbwoy, Natos y Waor and Moncho Chavea (LAMC Sounds of Spain showcase) at Highline Ballroom
July 12: Systema Solar, Very Be Careful, and El Freaky at SummerStage/Queensbridge Park
July 13: Mala Rodriguez, Ana Tijoux, and Girl Ultra at Celebrate Brooklyn!/Prospect Park Bandshell
July 13: Rana Santacruz at Barbes (11 p.m.)
July 14: Jorge Drexler, Trending Tropics, ÌFÉ, and DJ Ra at Central Park SummerStage/Rumsey Playfield
July 14: Dos Santos Antibeat Orquesta at Barbes (10 p.m.)
Tickets: National Sawdust / Lincoln Center